ISOplan is an association of regulatory and legal consultants, with headquarter in Abano Terme - Italy, near

Venice
All the consultants have a Master of Science or Magister and they have a wide experience by international medical device manufacturers with operative sites in Japan, China, Brazil, European Union and United States.
---
Regulatory Division:
Enrico Bisson, Raffaella Bisson, Lorenzo Da Madice,
Legal Division: Tiziana Baggio, Sandra Meneghetti
ISOplan - Via Marzia 9, 35031 Abano Terme (PD), Italy (map) Email info@isoplan.org Tel: +39 049 8630080 - Fax: +39 049 8630080
I

SOplan USA

- ISOplan USA - 1368 North US 1 - Suite 402 Ormond Beach, FL 32174 (USA) Email info@isoplan.org
ISOplan Australia - 67 Maari Road, 6023 Duncraig (WA), Australia Email info@isoplan.org
---

The most of the consultants of ISOplan studied in the famous and old University of Padua.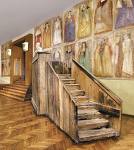 Abano Terme is well known in Italy as a city of wellness, there are many hotels and a big conference center for organizing scientific events.
Reaching Abano Terme
By car
For those who are taking the A4 motorway Turin-Trieste, the suggested exit is Padua west, whether you are coming from Milan or Venice. From here you continue along the bypass west (Corso Australia) until the turn-off for Abano. Then you come on to the provincial road that takes you from Padua to Abano and after 4 km you will reach the thermal centre. For those who arrive from the A13 motorway (Bologna-Padua) take the Terme Euganee exit, then follow the SS Adriatica in the direction of Padua and at the Mezzavia cross-roads turn left. After a few kilometres you will reach the thermal centre.

By train
The nearest railway station is the one at Terme Euganee - Montegrotto (not Abano), on the Bologna-Padua line, all the main trains stop here. Otherwise just as convenient is Padua station, on the Milan-Venice line where all the trains stop. Then from the square right in front of the station buses leave direct to Abano every 15 minutes, the bus lines are A, M, T or AT and the journey takes 30 minutes. Both of the stations have a taxi service.

By airplane
The nearest airport is the one in Venice (60 km) where most of the main national and international companies land. From here you can get to Abano by taxi or on a direct bus line, Airport-Abano (this takes 1h 30 min). There are also international airports in Treviso (70 km) and Verona (80 km), both are not far from Abano and are easily reached. Shuttle Service at a cost of 32.00 Euro per person per trip (update 2011)